Toy Story 4 Café [July 20 - September 16, 2019]
CAFÉ | カフェ INFORMATION
☆ Collaboration Webpage: https://toy.ohmycafe.jp/
☆ Official Webpage: https://www.disney.co.jp/movie/toy4.html
☆ Advance Reservations?: Yes
☆ Reservation/Visiting Fees: ¥500/per person advance reservation fee
Need help making a reservation? we wrote a guide!
☆ Location(s): Tokyo, Nagoya, Osaka, Sapporo
☆ Overview:
Toy Story 4 (トイ・ストーリー4) is an American animated film by Disney's Pixar Studios. It recently released in theaters across Japan on 7/12/19 while having been out in other countries since 6/20/19. To commemorate the films release in Japan there will be a special pop-up café celebrating Toy Story 4 with the theme of 'Carnival at OH MY CAFE'.
This collaboration café will be in 4 cities across Japan between the dates of 7/20/19 - 9/16/19. Operation dates may vary from location so please double check before visiting.
The theme of this café is carnival themed to go along with the story of Toy Story 4 and this can be reflected in the artwork, decoration, food, and novelty gifts! Even going as far as presenting customers with carnival-like 'admissions wristbands' as a gift! Come one come all! Step right up to try the Carnival Pasta & more with your favorite characters such as Buzz and Woody!
It is recommended you make an advance reservation via online if you plan to visit this café. Advance reservations cost ¥500/per person for up to 4 people on a single reservation. Those who did not make a reservation may not be seated that day and seating will be at the discretion of the staff at the time of visit. A special gift will be given for those who advance reserve. Customers who do not advance reserve but still manage to enjoy this café will not be eligible for this gift.
If you need help making a reservation with hubsynch we wrote a guide! If you have any further questions feel free to leave a comment below or on the guide page.
Tokyo Reservations | Osaka Reservations | Nagoya Reservations | Sapporo Reservations
Reservations must be made up to 3 days before the date you intend to visit

Up to 4 people can be on a single reservation (please be sure to put the correct amount of people). 5 or more require additional reservations.

Please arrive 10 minutes before your reservation

Arrival 20 minutes or more AFTER your reservation results in a cancellation

Each reservation allows for 80 minutes to enjoy the café.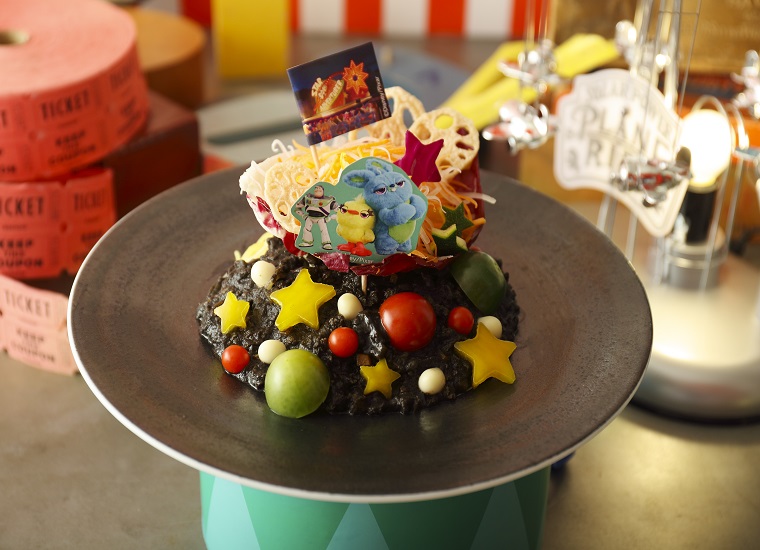 ☆ MENU | メニュー INFORMATION:
Drink (shown left to right)
<ダッキー&バニー>毒舌コンビのひんやりクラッシュマンゴー ¥1,390

Ducky & Bunny's Poisonous combination of cool crushed mango

<エイリアン> スペースクレーン・サイダー ¥990

Alien's Space Crane Cider

<ジェシー>ざくろウォーター ¥890

Jessie's Pomegranate Water

w/matching acrylic coaster ¥1,790

<スリンキー>ヨーグルトスムージーオレンジ風味 ¥890

Slinky Dog's Orange Flavor Yogurt Smoothie

w/matching acrylic coaster ¥1,790

<バターカップ>ヨーグルトスムージーマンゴー風味 ¥890

Butter Cup's Mango Flavor Yogurt Smoothie
Food (shown left to right)
<ウッディ&ボー・ピープ> 運命の再会プレート ¥1,890

Woody & Bo Peep's Fate Reunion Plate

<バズとダッキー&バニー> 夜のカーニバル・パスタ ¥1,790

Buzz, Ducky, & Bunny's Carnival at Night Pasta

<デューク・カブーン> 空高く!スタントバーガー ¥1,890

Duke Kaboom's Sky High! Stunt Burger

<フォーキー>ボクはおもちゃじゃないタコライスプレート ¥1,690

Forky's 'I Am Not A Toy' Taco Rice Plate

<ギャビー・ギャビー&ダミーズ>アフタヌーンティーセット ¥1,790

Gabby Gabby & Dummy's Afternoon Tea Set
☆ Café Novelty Items:
Novelty items are essentially gifts/souvenirs given to you by the café as a reward for either visiting the café, ordering a certain menu item, or spending (x) amount of cash.
Customers who advance reserve and pay the fee of ¥500/per person will receive an original ticket stub shaped sticker (1 out of 13 designs at random) when they arrive at the café. Customers who dine at the café without a reservation will not receive this benefit.
Customers who visit the café will be presented with an original 'admissions wristband' (1 out of 13 designs at random) to mimic as if you were going to a carnival while supplies last.

Customers who order off of the collaboration food menu will receive a Woody inspired apron. Limit to 1 per eligible person.
Children below elementary school age will be presented with either a Ducky or Bunny sun-visor while supplies last
☆ Cafe Exclusive Goods:
A wide variety of café exclusive goods will be available to purchase ranging from tin badges, notebooks, cups, phone cases & more. Below are just some examples. View the full goods.
☆ Location(s) & Periods:
This collaboration will be held at 4 location(s) around Japan. Please be sure to verify the date, time, location, and reservation status of the café closest to you before visiting as these details may differ from location!
OH MY CAFE TOKYO
Address: 東京都渋谷区神宮前4-30-3 東急プラザ表参道原宿3F
Period: 7/20/19 ~ 9/16/19
Hours: 11: 10 ~ 19: 20
kawara CAFE&DINING 心斎橋 - Osaka
Address: 大阪府大阪市中央区西心斎橋1-4-3 心斎橋オーパ 9F
Period: 7/20/19 ~ 9/16/19
Hours: 11: 15 ~ 19: 15
kawara CAFE&KITCHEN 名古屋PARCO店 - Nagoya
Address: 愛知県名古屋市中区栄3-29-1名古屋PARCO南館5階
Period: 7/20/19 ~ 8/25/19
Hours: 11: 00 ~ 19: 20
コーチャンフォー新川通り店 カフェ インターリュード - Sapporo
Address: 北海道札幌市北区新川3条18丁目
Period: 7/21/19 ~ 8/25/19
Hours: 10: 00 ~ 19: 30
Disclaimer: Dates, times, locations, café rules & other information involving limited time cafés and menu items are subject to change at anytime. Please carefully review the cafés website for the most up to date information before visiting! Dango News is not affiliated with or sponsored by this café. All copyright belongs to the respective owners.
Source(s): [1]