LoveLive! Series x Sanrio Characters Cafe [August 16 - October 27, 2019]
CAFÉ | カフェ INFORMATION
☆ Collaboration Webpage: https://lovelive-sanrio-cafe.jp/
☆ Official Love Live! Webpage: http://www.lovelive-anime.jp/
☆ Advance Reservations?: Yes
Need help making a reservation? View our guide!
☆ Reservation/Visiting Fees: ¥500/per person
☆ Location(s): Tokyo & Osaka
☆ Overview:
This limited-time collaboration pop-up café will be between the anime series Love Live! (ラブライブ!) and Sanrio Characters!
This collaboration will be held in Tokyo, Japan from 8/16/19 - 10/14/19 & in Osaka, Japan from 9/27/19 - 10/27/19. This cafe will offer exclusive designs, a specially created menu, free goodies, and an exclusive goods shop!
It is recommended you make an advance reservation via online if you plan to visit this café. Advance reservations cost ¥500/per person for up to 4 people on a single reservation. In the event of a fully booked café, those who did not make a reservation may not be seated that day. A special gift will be given for those who advance reserve. Customers who manage to visit the café without reserving in advance will not receive the special gift.
If you need help making a reservation with hubsynch we wrote a guide! If you have any further questions feel free to leave a comment below or on the guide page.
Tokyo Reservations | Osaka Reservations
Reservations must be made up to 3 days before the date you intend to visit

Up to 4 people can be on a single reservation (please be sure to put the correct amount of people). 5 or more require additional reservations.

Please arrive 10 minutes before your reservation

Arrival 20 minutes or more AFTER your reservation may result in a cancellation

Each reservation allows for 80 minutes to enjoy the café.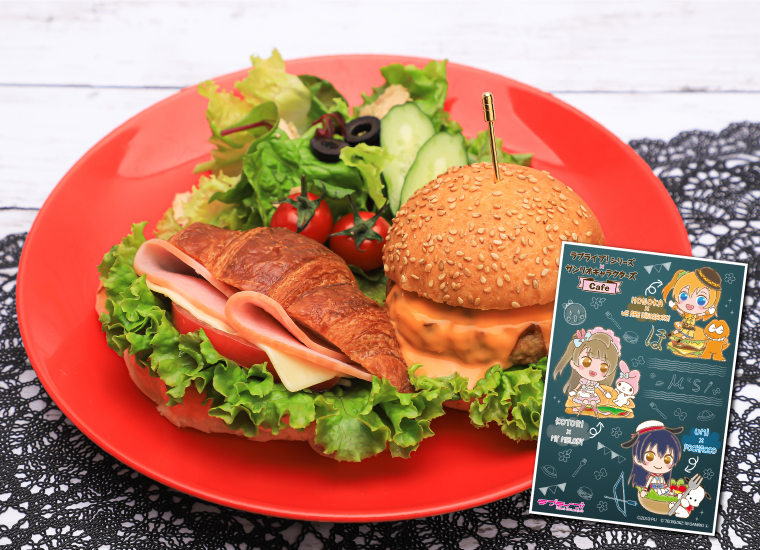 ☆ MENU | メニュー INFORMATION:
Food
パンが主役!フードプレート ¥1,390

ありえない組み合わせ?フードプレート ¥1,390

かなりボリューム満点!フードプレート ¥1,390

おいしさ主役級!さわやか王道デザートプレート ¥1,390

わいわい!あまあま!デザートプレート ¥1,390

絶妙なバランス。オトナなデザートプレート ¥1,390

2人で1つ。ツインパフェ ¥1,390
Drink
フローズンベリーたっぷり!クランベリーソーダ ¥790

ブルーベリーたっぷり!ラムネソーダ ¥790

キウイフルーツたっぷり!キウイシロップソーダ ¥790

チョコたっぷり!イチゴミルクドリンク ¥790

クリームたっぷり!バナナミルクドリンク ¥790

マシュマロたっぷり!抹茶ミルクドリンク ¥790

オレンジたっぷり!ブルーカルピスソーダ ¥790
☆ Café Novelty Items:
Novelty items are essentially gifts/souvenirs given to you by the café as a reward for either visiting the café, ordering a certain menu item, or spending (x) amount of cash.
Those who advance reserve (¥500 per person) will receive an original sticker sheet once they arrive (1 of 6 designs) at random. Customers who visit the café without an advance reservation will not receive this benefit.
All visitors who visit and order food will receive an original luncheon mat (1 of 4 designs) at random.
Customers who order from the food menu will receive a postcard that corresponds with the menu order. Please look at the pictures above to see which dish comes with what postcard.
Customers who order from the drink menu will receive an original drink coaster. Each drink has 2-3 possible coaster designs you can receive at random from ordering that drink. To see which coaster you can possibly get with the order of which drink please look at the drink previews above.
☆ Cafe Exclusive Goods:
Admission to the shop is limited to café users only. Some items may have a purchase limit so others may have the opportunity to buy as well.
To view the full goods list: https://lovelive-sanrio-cafe.jp/goods/
☆ Location(s) & Periods:
This collaboration will be held at 2 location(s) around Japan. Please be sure to verify the date, time, location, and reservation status of the café closest to you before visiting as these details may differ from location!
HARAJUKU BOX CAFE&SPACE - Tokyo
Address: 東京都渋谷区神宮前4-28-28 ルチェッシモビル2階
Period: 8/16/19 ~ 10/14/19
Hours: 10: 00 ~ 19: 40
UMEDA BOX CAFE & SPACE - Osaka
Address: 大阪府大阪市北区茶屋町16-7 梅田ロフト 1階
Period: 9/27/19 ~ 10/27/19
Hours: 10: 30 ~ 19: 30
Disclaimer: Dates, times, locations, café rules & other information involving limited time cafés and menu items are subject to change at anytime. Please carefully review the cafés website for the most up to date information before visiting! Dango News is not affiliated with or sponsored by this café. All copyright belongs to the respective owners.
Source(s): [1]