My Little Pony X Little Twin Stars - Drink Collaboration [August 25 - September 16,2018]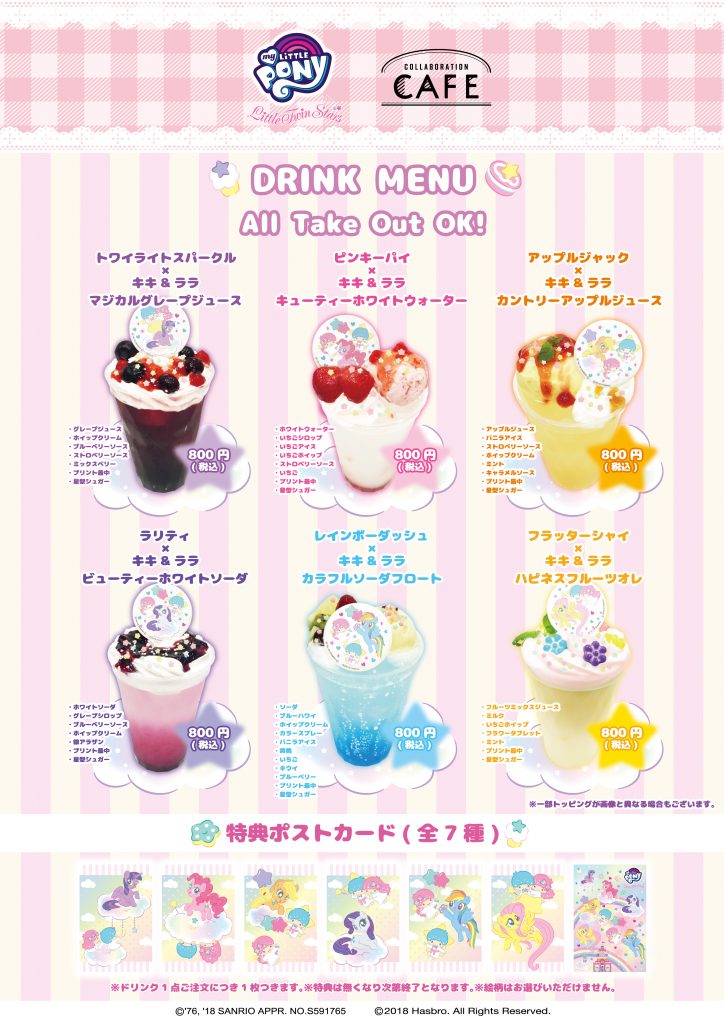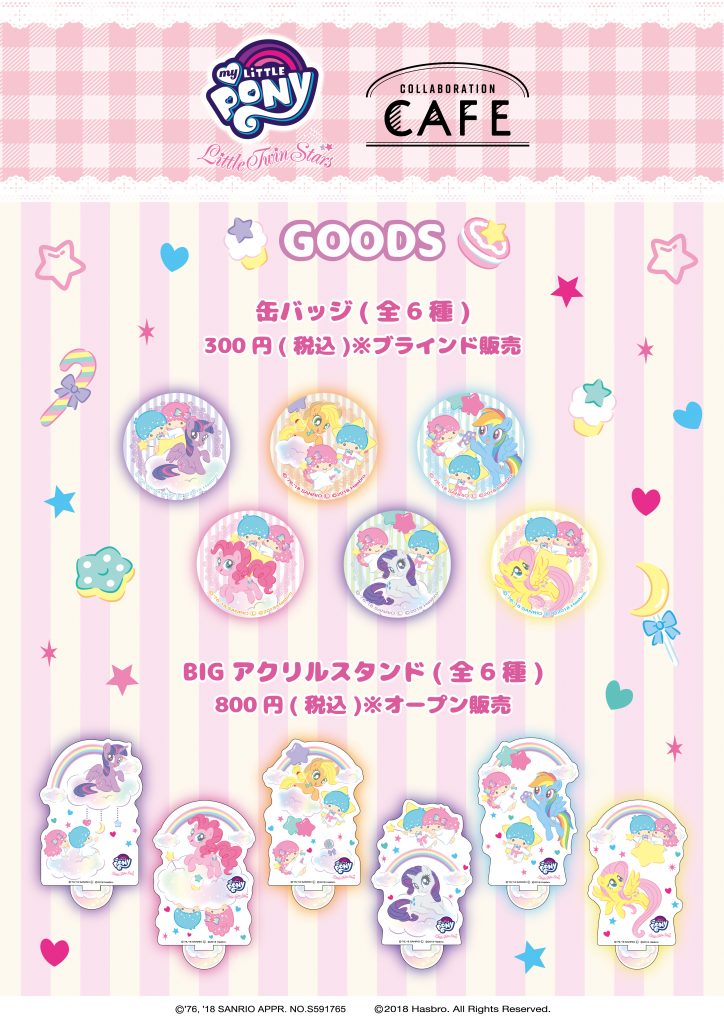 CAFÉ | カフェ INFORMATION
☆ Cafe Collaboration Webpage: Click Here [JP]
☆ Advance Reservations Required:  No
☆ Price Range: 
Food: No collaboration food served
Drink: ¥800
Goods: ¥300 - ¥800
Entrance/Reservation Fee: None

☆ About: 
My Little Pony (マイリトルポニー) started off as an American toy line for girls by Hasbro since 1981. Little Twin Stars consists of two twins named Kiki and Lala who are developed by popular character company Sanrio. 

This limited time drink collaboration between My Little Pony X Little Twin Stars will be held with Cafe Collab in Harajuku for a limited time between August 25 - September 16, 2018. Only drinks will be served at this collaboration cafe, no food items so please be advised.

Take-Out orders are OK for this drink collaboration. 

☆ Café Novelty Items:
Customers who order from the limited time drink collaboration menu will receive an original card (1 of 7 designs) at random per order as long as supplies last.
☆ Location(s) & Periods: 
This collaboration will be held at 1 location(s) around Japan. Please be sure to verify the date, time, location, and reservation status of the café closest to you before visiting as these details may differ from location!
Collaboration Cafe Harajuku Takeshita Store (コラボレーションカフェ 原宿竹下店)
Address: 150-0001 東京都渋谷区神宮前1-19-1 T'S LINK原宿 2F
Period: 8/25 ~ 9/16, 2018
Hours: 11: 00 ~ 19: 00
Disclaimer: Dates, times, locations, café rules & other information involving limited time cafés and menu items are subject to change at anytime. Please carefully review the cafés website for the most up to date information before visiting! Dango News is not affiliated with or sponsored by this café.
Source(s): [1]
Image Source(s): http://www.collabo-cafe.jp/ [1],