Natsume's Book of Friends 10th Anniversary Café [June - July 2018]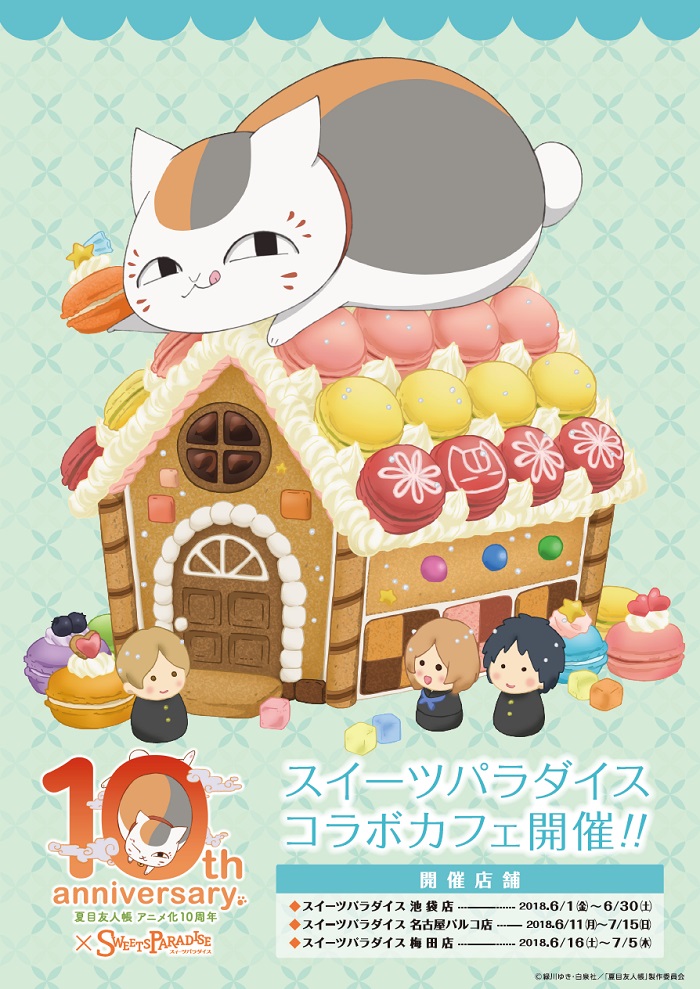 CAFÉ | カフェ INFORMATION
☆ Cafe Collaboration Webpage: Click Here [JP]

☆ About:
Natsume's Book of Friends (夏目友人帳) animated TV series is currently celebrating their 10th anniversary this year. To commemorate the occasion there will be a collaboration with 3 Sweets Paradise locations. The collaboration as a whole range between June 1 through July 15 at Ikebukuro, Nagoya, and Umeda locations. Each location has a different start and end date so please take note.

Sweets Paradise (スイーツパラダイス) is an all-you-can-eat sweets buffet. When visiting a sweets paradise collaboration location you will need to pay for the standard buffet fee which allows you to eat from their buffet which consists of cakes, soups, salad, & more for ¥1,500 + tax. To order a collaboration set is an additional ¥650 + tax which includes 1 collaboration food or dessert and 1 collaboration drink. Additional orders are ¥500 + tax. There is a set time-limit to enjoy this establishment.

It is possible to call in a reservation or apply online however generally a reservation is not needed to visit Sweets Paradise.

Special goods will be sold at the cafés however goods may only be purchased by customers who order off of the collaboration menu.

☆ Price Range:
Food & Drink: ¥2,150 (Buffet fee + Collaboration menu)

☆ Café Novelty Items
Customers who order a collaboration set will receive an original luncheon mat (1 of 2 designs) at random as well as an original coaster (1 of 10 designs) at random.
☆ Location(s) & Periods:
This collaboration will be held at 3 location(s) around Japan. Please be sure to verify the date, time, location, and reservation status of the café closest to you before visiting as these details may differ from location!
Sweets Paradise Ikebukuro Shop (Tokyo)
Address: 住所 東京都豊島区東池袋1-1-2 高村ビル5F
Period: 6/11 ~ 7/15, 2018
Hours: 11: 00 ~ 22: 00

Sweets Paradise Nagoya Shop
Address: 愛知県名古屋市中区栄3-29-1名古屋パルコ西館8F
Period: 6/01 ~ 6/30, 2018
Hours: 10: 30 ~ 22: 30

Sweets Paradise Umeda Shop (Osaka)
Address: 住所 大阪府大阪市北区角田町5-1梅田楽天地ビル2F
Period: 6/16 ~ 7/05, 2018
Hours: 10: 30 ~ 21: 30
Disclaimer: Dates, times, locations, café rules & other information involving limited time cafés and menu items are subject to change at anytime. Please carefully review the cafés website for the most up to date information before visiting! Dango News is not affiliated with or sponsored by this café.
Source(s): [1]
Image Sources: Sweets Paradise Website [1]