Cinnamoroll x @home café collaboration [November 2 - December 27, 2018]
CAFÉ | カフェ INFORMATION
☆ Cafe Collaboration Webpage: Click Here [JP]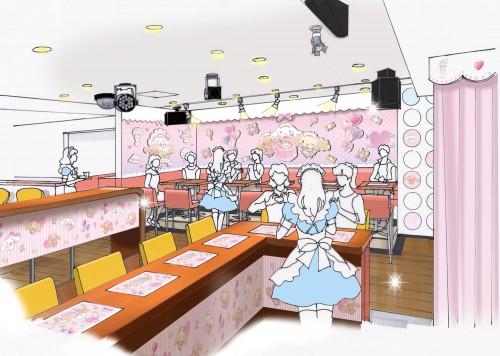 ☆ @Home Official Website: 日本語 | English | 한국어
☆ Advance Reservations Required?: No
☆ Price Range:
Food/Dessert: ¥ - ¥
Drink: ¥ - ¥
Goods: ¥ - ¥
Entrance/Reservation Fee: ¥700 per person to enter.
☆ About:
Cinnamoroll (シナモロール) is a series developed by Sanrio with the main character Cinnamon. @Home Café or At-Home Café (@ほぉ~むカフェ) is a maid café in Akihabara.

This collaboration between Cinnamoroll and @Home Café will be held for a limited time in Akihabara Japan from 11/02/18 - 12/27/18.

There is a ¥700 admission fee per person however there are discounts available for students and children. Please refer to staff or the official website for different pricing options. This café does not accept reservations and there is a time limit to experience this café.
☆ MENU | メニュー INFORMATION:
☆ Café Novelty Items:
Customers who visit the café will receive an original luncheon mat (1 of 2 designs) at random per person. You may not select your design.

Customers who order drinks will receive an original coaster (1 of 3 designs) at random per drink order. You may not choose your design.
☆ Location(s) & Periods:
This collaboration will be held at 1 location(s) around Japan. Please be sure to verify the date, time, location, and reservation status of the café closest to you before visiting as these details may differ from location!
@Home Café 4th Floor Main bldg. (@ほぉ~むカフェ 本店4階) - Tokyo
Address: 101-0021 東京都千代田区外神田1-11-4 ミツワビル4階
Period: 11/02/18 ~ 12/27/18
Hours: 11: 00 ~ 22: 00 (Weekday) | 10: 00 ~ 22: 00 (Weekend & Holiday)
Disclaimer: Dates, times, locations, café rules & other information involving limited time cafés and menu items are subject to change at anytime. Please carefully review the cafés website for the most up to date information before visiting! Dango News is not affiliated with or sponsored by this café.
Source(s): [1]
Image Source(s): http://www.cafe-athome.com/info/91253/ [1]